Musica Sacra Auditions
Wed, September 4, 2019 @ 5:30 pm

-

7:30 pm

EDT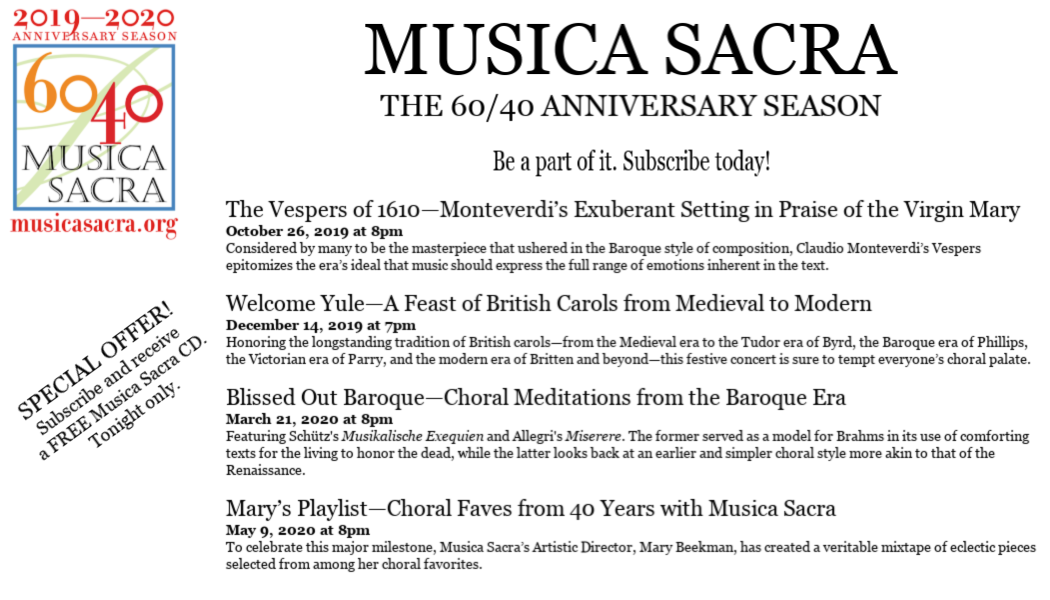 We are looking for a few good singers! Musica Sacra is currently seeking experienced first sopranos, low altos, tenors, and basses for our 2019-2020 season. Auditions will be held by appointment beginning on Wednesday evening, September 4, until the slots are filled. Auditions are held at Harvard Epworth Church, 1555 Massachusetts Avenue, Cambridge. (Harvard Square, Red Line) If you would like to arrange an audition time, please fill out and submit our Audition Form: https://docs.google.com/forms/d/e/1FAIpQLSe2q_Zr6-g3fZYCdccenNzEBrzQ-odHyiF7JZwqrPzsCI_DhA/viewform
You are not required to prepare a piece for the audition, but you will be asked to demonstrate your sight reading skills.
Musica Sacra has sung in Cambridge and Boston for 60 years and 40 of them under the direction of conductor Mary Beekman, who is known in the Boston area for her inspired programming. We sing a diverse selection of both sacred and secular music, ranging from the 15th-century Flemish to the newly-composed, with everything in between suited to our size of 28-32 singers. We work to adapt our sound to the spirit of each piece being sung and are looking for singers who are able to do the same. The music Mary selects can be challenging; the group often sings a cappella works with adventurous voicings and harmonies, and it always presents compositions in their original language. We perform in mixed formation, and occasionally numerous divisi require a singer to be alone or with one other on a part. The result is a sound that is distinctively transparent (called "jaw-droppingly good" in the Boston Musical Intelligencer), with programs that are extremely rewarding for our singers and audiences alike!
We typically perform four concerts per year. This year's full concert schedule includes these exciting performances:
The Vespers of 1610: Monteverdi's Exuberant Setting in praise of the Virgin Mary on October 26. 2019
Welcome Yule: A Feast of British Carols from Medieval to Modern on December 14, 2019
Blissed Out Baroque: Choral Meditations from the Baroque Era on March 21, 2020
Mary's Playlist: Choral Faves from 40 Years with Musica Sacra on May 9, 2020
More detailed information on the upcoming season can be found on the Season Calendar page above. Rehearsals are held on Wednesday evenings from 7-10 PM at Harvard-Epworth Church near Harvard Square. Concerts are performed at First Church in Harvard Square.
Auditions will take place at the Harvard-Epworth United Methodist Church, 1555 Massachusetts Avenue in Cambridge (near the Harvard Law School and Cambridge Common). If you would like to arrange an audition time, please fill out and submit our Audition Form: https://docs.google.com/forms/d/e/1FAIpQLSe2q_Zr6-g3fZYCdccenNzEBrzQ-odHyiF7JZwqrPzsCI_DhA/viewform