Harvard-Radcliffe Chorus Spring Concert: A Parry Premiere and a Variety of Tidbits
Fri, May 11, 2018 @ 8:00 pm

-

9:30 pm

UTC-4

$15 – $20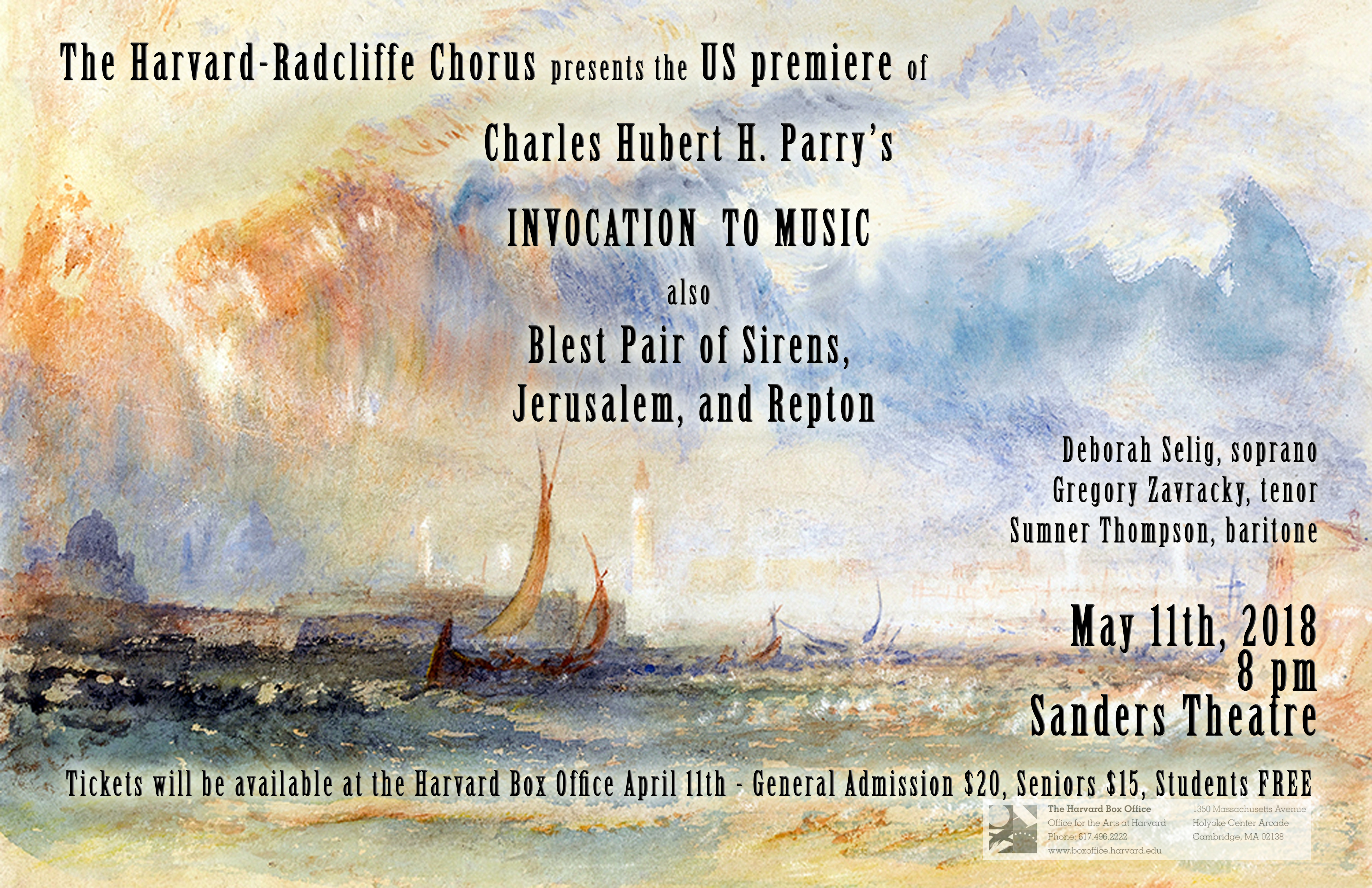 The Harvard-Radcliffe Chorus will present for its Spring Concert, the U.S. premiere of C. Hubert H. Parry's 'Invocation to Music: In Honour of Henry Purcell,' 'a cantata of melodic grandeur.'
In addition to Parry's 'Invocation to Music,' we will also perform 'Blest Pair of Sirens,' a favorite of the British Royal Family – sure to be played at the upcoming wedding, and 'Jerusalem,' Britain's unofficial national anthem – a hint, if you are either a fan of British cricket, rugby or football teams, or of the movie 'Chariots of Fire,' you've already heard it! And finally, a late addition – 'Repton,' a lovely hymn and one of two which you will invited to join us in singing.
While not well known in the U.S., Parry was one of the leaders of the British choral music renaissance and influenced generations of British composers: Elgar and Vaughan Williams, among others. During his lifetime, Parry was acknowledged as the greatest English choral composer of his day.
On this, the centenary of his death we pay tribute to one of the greatest composers, musical historians and teachers of the Romantic Movement, by dedicating our 2018 Spring Concert to the introduction of one of England's most respected musicians to the American audience.
Come and enjoy an evening of rich, dynamic music that will inspire you, raise your spirits and fill your heart with thoughts of spring.
Edward Elwyn Jones, Art Director, conducting
Deborah Selig, soprano,  Gregory Zavracky, tenor, and Sumner Thompson, baritone.
Tickets: General admission – $20, Seniors – $15, Students – Free.
How to get tickets: Tickets now available from chorus members and at the Harvard Box Office – 617-496-2222
Free parking for concertgoers will be available at the Broadway and Oxford Street Garages.  Directions to parking and Sanders Theatre can be found here.
Accessibility:  Sanders Theatre accessibility info
Harvard-Radcliffe Chorus Spring Concert: A Parry Premiere and a Variety of Tidbits