Halalisa Singers: Come Fly With Me
Sun, January 13 @ 3:00 pm

-

5:00 pm

EST

$20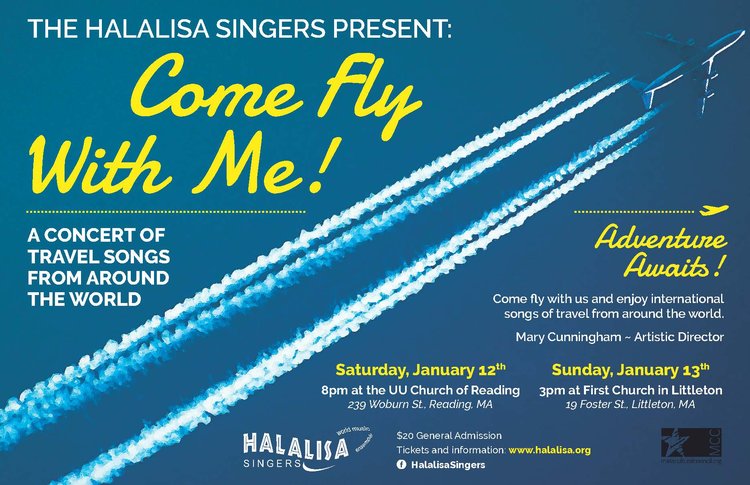 The Halalisa Singers under the direction of Artistic Director Mary Cunningham invite audiences on a musical journey in Come Fly With Me: Songs of Travel from Around the World. The group's 34 singers hail from Andover, Arlington, Ayer, Belmont, Boston, Cambridge, Chelmsford, Lexington, Lincoln, Lowell, Maynard, Medford, Newton, Reading, Somerville, Sudbury, Wakefield, Winchester, and Woburn. They will be accompanied by pianist Trevor Berens, percussionist Fabio Pirozzolo, clarinetist Dustin Chung, and guitarist A.J. Heidkamp. Tickets are $20. For information call 781-648-5579, email info@halalisa.org, or visit http://www.halalisa.org/concerts/.
The performances are part of a concert season featuring songs of travel that will continue with local concerts on April 27-28, 2019 and culminate with the ensemble's May 2019 tour of Ireland, where they will present performances in Dublin, Killarney, Kingston, and Galway.
The group's name, Halalisa, is taken from a Zulu word meaning celebration, and reflects the ensemble's mission to deliver music that uplifts, energizes, comforts, and brings joy. According to Artistic Director Cunningham, vocalizing is an international tool for human synergy. "In every culture of the world, singing together has served as a means to connect people spiritually and communally." She adds that it can also help unite disparate groups and plays an important role in our increasingly diverse society. "Music brings us together through common experience of heart and mind, bridges what divides us, and unites us in common purpose. Through the support of community we can go out and build a better world."
Come Fly With Me features two swinging jazz standards, the titular song written by Jimmy Van Heusen and made famous by Frank Sinatra, and Billy Strayhorn's iconic "Take the A Train."  Spirituals have long been Halalisa crowd pleasers, and this program is no exception, with Rollo A. Dilworth's rousing "Freedom Train," "Guide My Feet," the powerful American folk hymn "Bound for the Promised Land," and the traditional "Walk Together, Children" in a masterful choral arrangement by the great Moses Hogan.
Points further afield are represented by Joshua Jacobson's exquisite arrangement of the Sephardic folk song "Adijo, Kerida" ("Farewell, Beloved"), the Manda Wilderness song "Ndiyende njirayi," and the rhythmically exuberant Celtic tune "Bionn Siulach Scealach" ("Travelers Have Tales to Tell"). The chorus displays special skills for the train sounds of Chen Yi's arrangement of the Taiwanese folk song "Diu Diu Deng," and the complex yet whimsical Georgraphical Fugue for Speaking Chorus. The Halalisa women bring sweet harmonies to the poignant "Somos El Barco," while the men deliver a traveler's tale in "Rocky Road to Dublin." Craig Hella Johnson's uplifting arrangement of Carly Simon's "Let the River Run," the lyrically charged Scottish song "Over the Sea to Skye," and Alistair MacGillivray's gorgeous "Song for the Mira" about life along the Mira River in Cape Breton, Nova Scotia, round out the concert.
The wide array of styles, moods, and emotional experiences is typical of Halalisa concerts. It's a variety that helps convey the richness of human life around the globe. "Come for the experience of exciting music, filled with songs and dances from around the world. Superb soloists, too," says Cunningham. "And, of course, extensive percussion!"
Cunningham directs choral groups, plays flute, and teaches locally, but finds working with Halalisa to be a unique experience. "The Halalisa Singers are an ensemble of lively, open, talented, welcoming and enthusiastic singers who love to make music together," she says.
The Halalisa Singers are a celebrated world music vocal ensemble of Greater Boston, dedicated to the performance of music across all cultures and nationalities. Halalisa is a Zulu word for "celebration," and in that spirit, the Halalisa repertoire includes African, Latin, American Spiritual, Gospel, Jewish, Folk, and Jazz music. Under the leadership of Artistic Director Mary Cunningham, this Lexington- based group is now in its twenty-fifth year, offering performances throughout the Boston area. We are inspired by the belief that music is a universal language with the power to uplift and unite us all. The Halalisa Singers are members of the Greater Boston Choral Consortium, a cooperative association of choral groups in Boston and surrounding areas.
Mary Cunningham is in her fifteenth year as Artistic Director of the Halalisa Singers. She leads the ensemble in reaching out to wider audiences and performing an ever-widening repertoire. Following her vision to share their music across the Boston area, Halalisa has now performed for audiences in the communities of Acton, Arlington, Bedford, Boston, Cambridge, Concord, Hanover, Hingham, Harvard, Littleton, Melrose, Roxbury, Wellesley, & Winchester. With their special sound and mission, the Halalisa Singers have been sought after to perform at Multicultural and Diversity events, Benefit concerts and International festivals in the Northeast and Europe. Ms. Cunningham earned her Masters in Music at the Cleveland Institute of Music after degree training at the Mozarteum in Salzburg, Austria. She is well known in the Boston area as an active conductor, vocalist, and flute soloist. She is the Choir Director at the Unitarian Universalist Church of Reading, is a member of the American Choral Directors Association and the UU Musicians Network. A frequent performer with the Christmas Revels, Mary is on the faculty of the Powers Music School in Belmont, and has a private teaching studio in her Lexington home.
Pianist, composer, and accompanist Trevor Berens plays in many different styles, specializing in avant-garde classical music, traditional classical music, and free improvisation. Trevor holds degrees from Loyola Marymount University (BA: Music–Piano, Composition and Psychology), California Institute of the Arts (MFA: Performer/Composer), and Lesley University (MA: Expressive Therapies with Music Therapy specialty). As a collaborator, he enjoys working with solo vocalists and instrumentalists, chamber groups, choruses, and with dancers and actors. Trevor is the founder, pianist, and resident composer of the nine-member new music ensemble, Sonic Liberation Players. He is a licensed music therapist who currently works with the elderly, young children, and as a supervisor with master's level interns. With his wife Jessica, he runs the Berens Voice and Piano Studio out of Lincoln, MA.
Halalisa Singers: Come Fly With Me