Cambridge Community Chorus presents Duke Ellington's Sacred Concert
Sun, December 15, 2019 @ 4:00 pm

-

6:00 pm

EST

$15 – $25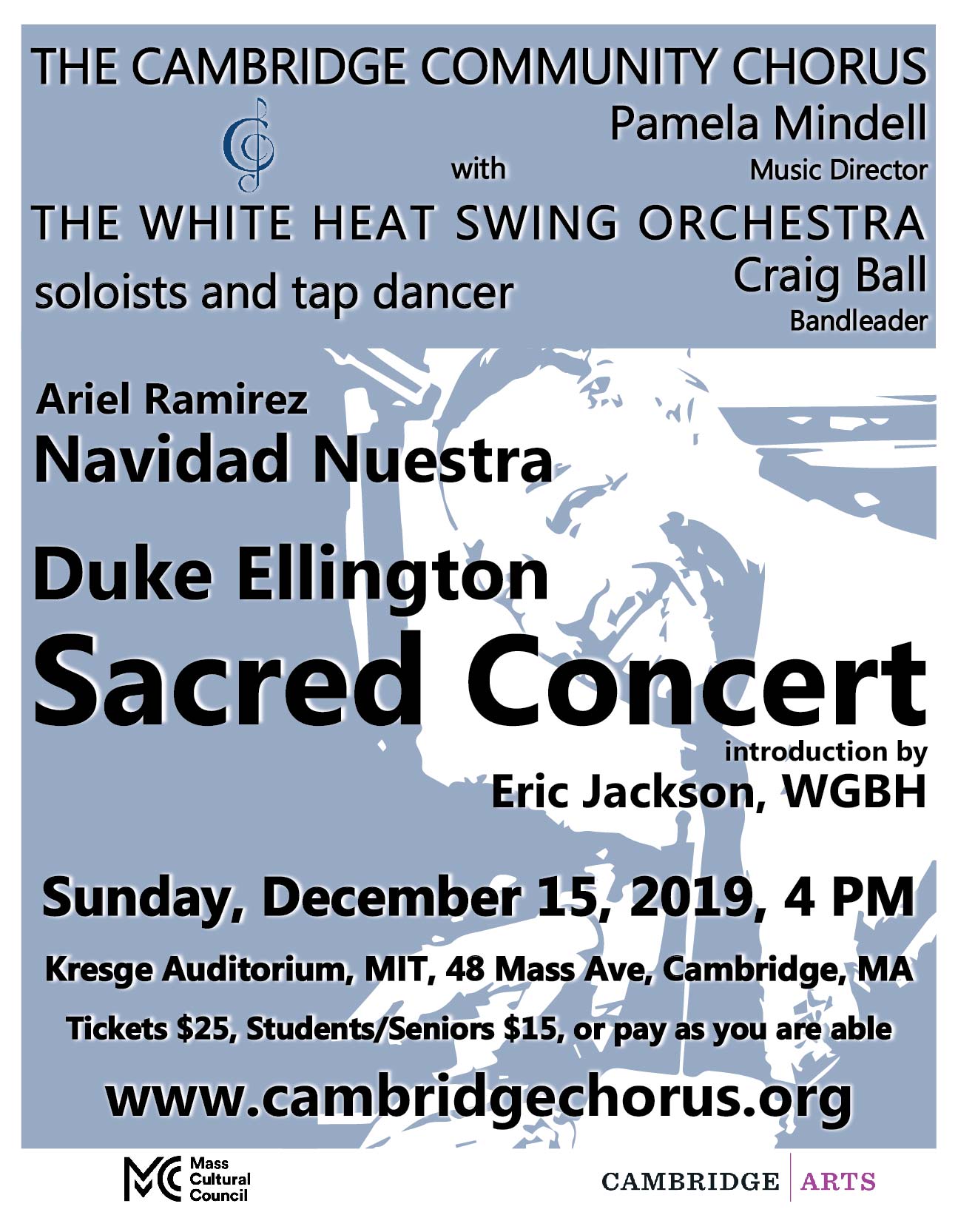 Featuring The White Heat Swing Orchestra and special guest Eric Jackson, Boston's dean of jazz radio, this promises to be a festive event you won't want to miss!
Date: Sunday, December 15
Time: 4:00 p.m.
Venue: Kresge Auditorium, MIT, 48 Massachusetts Avenue, Cambridge
Near the end of his life Duke Ellington called the three Sacred Concerts, written between 1965 and 1973, "the most important thing I have ever done."
With soprano soloist Rochelle K. Ellis, of Princeton University, tap dancer and Roxbury native Sybil Huggins, and the big band sound of The White Heat Swing Orchestra, we hope to spark the same exhilaration that greeted this new genre of spiritual music in the 1960s.
The program opens with Argentine composer Ariel Ramirez's Navidad Nuestra, a tuneful folk drama of the Nativity based on the rhythms and traditions of Latin America.
As our tenor soloist, we're delighted to welcome back our brilliant former accompanist Jamie Hillman, who now pursues a multi-faceted career as a singer, pianist, music educator and composer. He is joined by Junhan Choi, a native of South Korea known for his "splendid baritone voice," and his performances in concerts, opera, and oratorio.
Cambridge Community Chorus presents Duke Ellington's Sacred Concert