April 27 and 28: Halalisa Singers present 'Voices of Hope and Heart'
Sun, April 28, 2019 @ 4:00 pm

-

6:00 pm

EDT

|

Recurring Event

(See all)

One event on Sun, April 28, 2019 at 4:00 pm

$20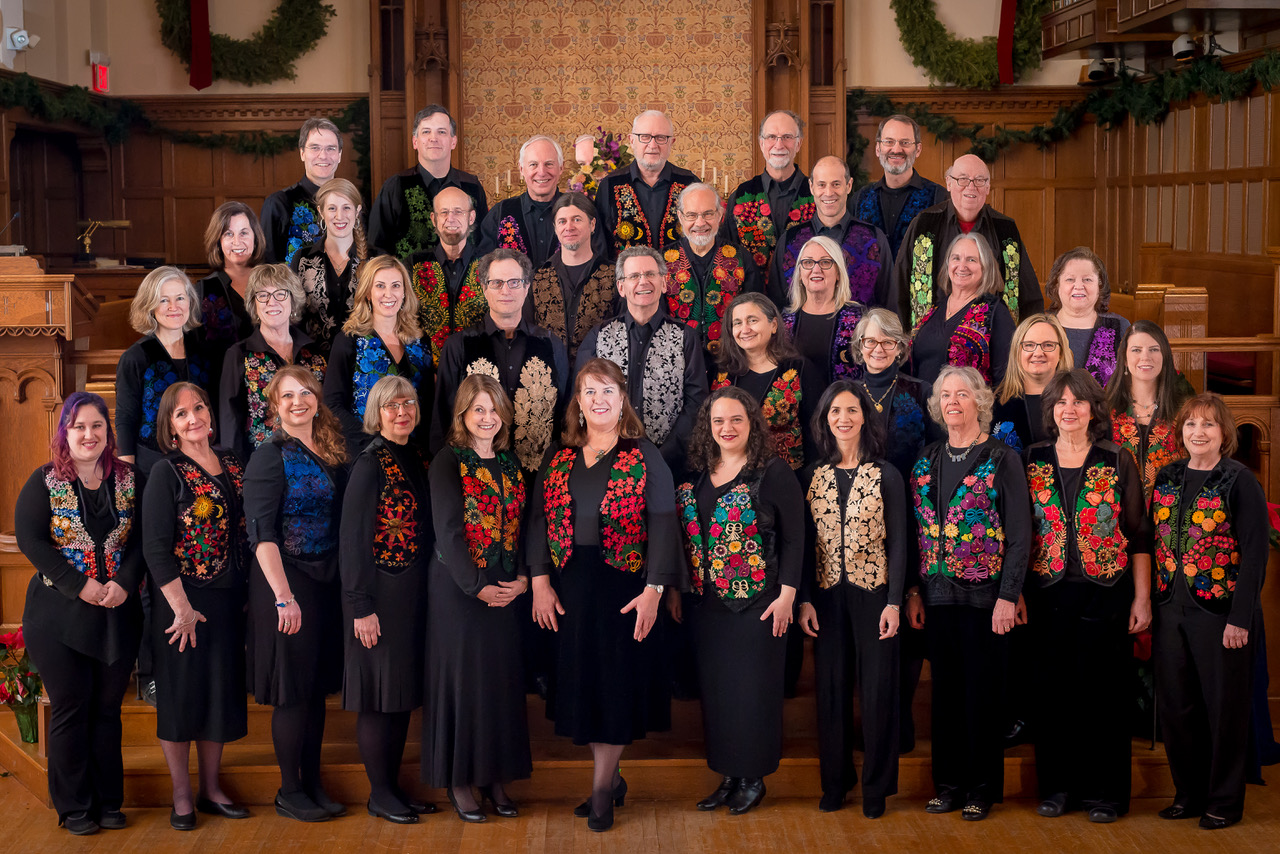 Artistic Director Mary Cunningham leads the 39-voice Halalisa Singers in Voices of Hope and Heart, a timely concert offering messages of hope in adversity and the power of love to bring joy and healing. Accompanying the singers will be pianist Trevor Berens and percussionist Bertram Lehmann. The ensemble will repeat the diverse program showcasing American values of inclusiveness and justice on a May 2019 tour of Ireland with performances in Dublin, Kinsale, Killarney, and Galway.
Voices of Hope and Heart features a wide range of music, from choral classics to spirituals and folk songs to international selections. With its warmth, changing keys, and inclusion of the classic peace round Dona Nobis Pacem, Norwegian composer Ola Gjeilo's "The Ground" conveys a sense of serenity and grounded strength. "Jubilate Deo," Peter Anglea's joyous setting of another Latin text (Psalm 100) teems with dancelike meters and buoyancy. The shimmering beauty of "Sure on This Shining Night," Martin Lauridsen's exquisite setting of James Agee's poem, has made it a favorite of choruses and audiences far and wide.
Songs from the spiritual and gospel traditions include the contagious joie de vivre of Rollo Dilworth's "I Sing Because I'm Happy," celebrating the elation that comes from raising our voices in song. Brian Tate's arrangement of the well-known spiritual "Soon Ah Will Be Done" opens in traditional a cappella style before launching into a spirited, funky gospel groove. From Ysaye Barnwell of Sweet Honey in the Rock comes "Hope," a moving a cappella anthem urging us all to keep teaching, working, marching, and singing.
Audiences will recognize a trio of well-known American folk songs and standards presented in fun and unusual arrangements. Ryan O'Connell's upbeat a cappella setting of "Down by the Riverside" infuses the popular tune with snaps, claps, and rhythmically charged vocals. With its stunning harmonies and emotional power, James Erb's "Shenandoah" is a gorgeous version of the folk anthem. Andy Beck's unique Hawaiian-style choral arrangement of "Over the Rainbow" evokes the usual wistfulness along with visions of swaying palm trees and hula dancers.
World music is a staple of the Halalisa repertoire, and this concert is no exception. Joshua Jacobson's version of the Yiddish folk song "Ale Brider" ("All Brothers") is a jubilant romp with theatrical solos and enthusiastic call and response. "Abun D'bash'maiyo," Mark Templeton's sublime setting of The Lord's Prayer in Syriac, weaves meditative, incandescent harmonies into a second century Eastern Syriac melody. Roger Emerson's lively "O Sifuni Mungu" ("All Creatures of Our God and King") features robust syncopations, fiery choral singing, and spectacular percussion. Steven Fisher's "Three South African Songs" presents a trio of the country's most well-known tunes in celebratory a cappella versions. In honor of the chorus's upcoming tour, they'll also perform a pair of Irish drinking songs, the rollicking "Preab San Ol" and the poignant "The Parting Glass," both arranged by Peter Hill.
The Halalisa Singers are a celebrated world music vocal ensemble of Greater Boston, dedicated to the performance of music across all cultures and nationalities. Halalisa is a Zulu word for "celebration," and in that spirit, the Halalisa repertoire includes African, Latin, American, Spiritual, Gospel, Jewish, Folk, and Jazz music. Under the leadership of Artist Director Mary Cunningham, the Lexington-based group is now in its 26th year, offering performances throughout the Boston area. They are inspired by the belief that music is a universal language with the power to uplift and unite us all. The Halalisa Singers are members of the Greater Boston Choral Consortium, a cooperative association of choral groups in Boston and surrounding areas.
Mary Cunningham is in her fifteenth as Artistic Director of the Halalisa Singers. She leads the ensemble in reaching out to wider audiences and performing an ever-widening repertoire. Following her vision to share their music across the Boston area, Halalisa has now performed for audiences in the communities of Acton, Arlington, Bedford, Boston, Cambridge, Concord, Hanover, Hingham, Harvard, Littleton, Melrose, Roxbury, Wellesley, & Winchester. With their special sound and mission, the Halalisa Singers have been sought after to perform at Multicultural and Diversity events, Benefit concerts and International festivals in the Northeast and Europe. Ms. Cunningham earned her Masters in Music at the Cleveland Institute of Music after degree training at the Mozarteum in Salzburg, Austria. She is well known in the Boston area as an active conductor, vocalist, and flute soloist. She is the Choir Director at the Unitarian Universalist Church of Reading, is a member of the American Choral Directors Association and the UU Musicians Network. A frequent performer with the Christmas Revels, Mary is on the faculty of the Powers Music School in Belmont, and has a private teaching studio in her Lexington home.
Pianist, composer, and accompanist Trevor Berens plays in many different styles, specializing in avant-garde classical music, traditional classical music, and free improvisation. Trevor holds degrees from Loyola Marymount University (BA: Music—Piano, Composition and Psychology), California Institute of the Arts (MFA: Performer/Composer), and Lesley University (MA: Expressive Therapies with Music Therapy specialty). As a collaborator, he enjoys working with solo vocalists and instrumentalists, chamber groups, choruses, and with dancers and actors. Trevor is the founder, pianist, and resident composer of the nine-member new music ensemble Sonic Liberation Players. He is a licensed music therapist who currently works with the elderly, young children, and as a supervisor with master's level interns. With his wife Jessica, he runs the Berens Voice and Piano Studio out of Lincoln, MA.
Percussionist Bertram Lehmann is a versatile, widely renowned performer who has appeared with artists including Paquito D'Rivera, Danilo Perez, Kenny Werner, Luciana Souza, and Dave Samuel's Caribbean Jazz Project. He teaches at Berklee College of Music and Phillips Academy, and has conducted clinics and workshops at Harvard University, Princeton University, Wellesley College, Oberlin College, Moscow Conservatory, Keimyung University in South Korea, and elsewhere. He has played on more than 40 recordings with musicians including the Mehmet Sanlikol Big Band, NEA jazz master Dave Liebman, Mango Blues, and Randy Brecker. His international performances have included appearances in Bermuda, Ecuador, Germany, Ghana, India, Israel, Mexico, Russia, South Korea, Spain, and Turkey, at venues including Lincoln Center, Boston's Symphony Hall, the Tchaikovsky Conservatory, and The Kennedy Center.
April 27 and 28: Halalisa Singers present 'Voices of Hope and Heart'